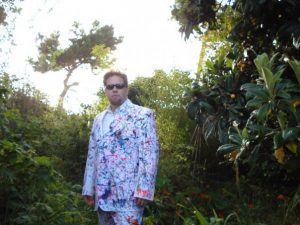 The way I became an artist is interesting.  Both my parents are visual artists, so I grew up with it as a kid.  I did some of my first art in SOMA at my father's studio on Bluxomne Street in San Francisco.  There was also a rooster watercolor I remember painting from memory at the Jr. Randall Museum.  There were art camps and things like that over the years, and then in high school I took art as an elective for freshman and sophomore years.  I transferred went to the School Of The Arts.  Although I took a basic design class in my first year of college, I ended up focusing on music for the next ten years.  Most of the art I did during that time was for band flyers – as I had first taken up guitar and then moved to electric bass guitar.
While I will concentrate mainly on art for this website, it is worth noting that I played electric bass in rock bands from 1991-2002, and helped produce three CD albums.  I did the artwork for the first one, and worked with a layout designer for the 2nd and 3rd albums.  A 4th was recorded in 2002 but never finished.
In 2000, after I had found an old discarded canvas and painted it, I decided to get back into making art.  I was very blunt about it.  I went to the art store, bought canvas and acrylic paint and got my stroke back.  Since then, I've painted several hundred paintings.
My first show was a group show in someone's house in 2005.  On the third day of that show, someone let off a fire extinguisher which damaged some of the paintings in the show, but mine were not in the area – thankfully.  I had my first solo show Espresso Roma over by Union Street, and got into the Re-Show in 2006 with both my parents (on a technicality – and thanks to John Behana).  I also showed at Lennon Studios a couple times, when they would change out their music rehearsal rooms, for art.  One of those times, I showed a few paintings and the band I was in at the time, played a set.
I've also done Open Studios in 2014, 2015, and 2017.  I plan to do more shows in the future.